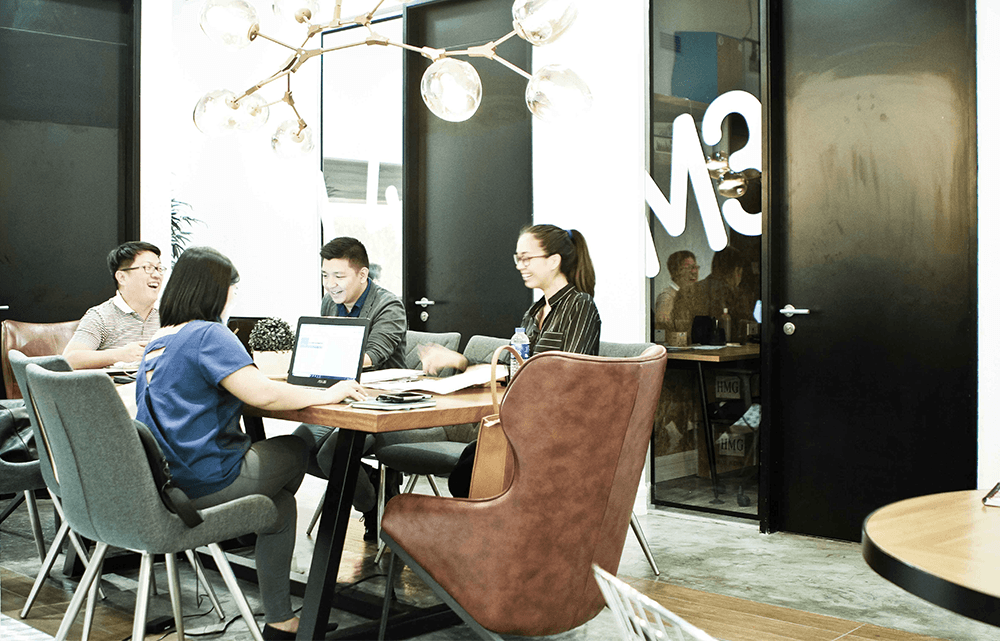 One of the biggest draws of a co-working space is its work environment. Cultivated by the work-place layout (often an open plan with easy access to lounge areas and a kitchen), which promotes an interactive workplace and easy communication, the co-workers and the community manager are able to naturally and organically develop a shared workplace that suits the community's needs. This major characteristic is what defines the space and the co-workers who choose to work there.
Every co-work space, in fact, has a specific vibe. Some work spaces might have a more artsy vibe, attracting graphic artists, writers, game developers, designers, and photographers. Other workspaces have a more right-brain vibe, which brings in cryptocurrency, app developers, and web developers, to name a few.
The purpose of a co-working community lines up with one of the most attractive factors of co-working: collaboration. Many freelancers, small business owners, and lean startups value being able to converse and collaborate with others. Idea sharing and helping each other with various projects is another defining characteristic of most co-working spaces, and this kind of interactive workplace does very well when those working in it are in fields similar enough for easy partnerships and teamwork.
More than just work, however, a co-working community naturally spends time together due to shared interests. This promotes the healthy human interaction that people need, but don't always get in a work-from-home set up or in some traditional office setups. These relationships are further strengthened by the events hosted by the co-work space, which can both be for fun or for personal development that may lead to further collaboration.
A co-working community is formed by both the vibe the community manager sets and the people who work and cultivate the culture of the shared workplace. Shared interests, events set up by the co-work space, and the office layout all contribute to the creation and cultivation of the community. What co-workers achieve and enjoy is the valuable and enjoyable experience of working in their chosen environment, which many claim lead to a healthy work-life balance along with a sense of purpose and meaning to their work.
What can you gain from all of this? The co-working environment and community have been proven to improve productivity and reduce stress levels by a sizeable margin, especially when compared to working from home. Freelancers, entrepreneurs, and professionals have taken advantage of the positive community found in co-working spaces to get tasks done and accomplish their goals for years. If you think you and your business can benefit from this kind of community, don't hesitate to book a slot and try co-working today!